Ladies Diamond and Gold Coin Pendant
1/10th Oz. Solid Gold Walking Liberty Coin
1/2 carat of Diamonds TOTAL WEIGHT
Manufacturer's List Price $2,150.00
SCROLL DOWN TO SEE TODAY'S LOW DISCOUNT PRICE
WITH FREE SHIPPING IN THE UNITED STATES, INCLUDING ALASKA, HAWAII AND PUERTO RICO
LOW INTERNATIONAL SHIPPING RATES AVAILABLE, TOO.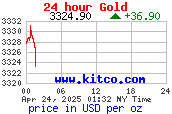 Gem of the Daytm is proud to have created this stunningly beautiful diamond and gold coin pendant, available exclusively at Gem of the Day. Worldwide gold is one of our most valuable resources and is the heart of almost all jewelry. And the United States Government has responded by issuing a new series of pure gold coins that have become the most desired gold coins in history. You can see today's current gold spot price in the chart on the right!
Our Ladies Diamond Coin Pendant is centered around a 1/10 ounce "Walking Liberty" Gold Coin. The pendant itself is crafted of 14 karat yellow gold with the bands surrounding the diamonds made of white gold. The pendant is high polished to a mirror finish.
We've chosen some of our finest diamonds to surround the coin in a channel setting. Carefully matched and hand set, the diamonds are at least SI-1 clarity and G color or better. This means the diamonds are a bright white color and free from all visible flaws. The pendant contains a remarkable 1/2 carat total weight of diamonds. Both the diamonds and the coin are recessed into the gold pendant for complete security and beauty.
To truly appreciate this pendant, you need to see it in your own home. And you can with Gem of the Day's 30 day no-hassle return policy. See the pendant, wear it, enjoy it. If it doesn't meet your every expectation, return it for a full refund.
As you shop and compare jewelry on the Internet or in your local store please keep in mind that Gem of the Day does not charge extra for shipping, handling, or insurance. The pendant is beautifully gift boxed and gift wrapping is also free. There are no hidden charges. All major credit cards are accepted. Interest free LAY-AWAY is also available when you contact us toll-free by phone at 1 (888) 243-6329. You'll enjoy personal service and complete satisfaction.
Model #A-16-9289
Gemday Lady Liberty Gold Coin and Diamond Pendant
1/2 carat diamonds, 1/10th ounce U.S.A. Liberty Coin, 14k Gold Frame (chain not included)
Manufacturer's List Price $2,150.00
Price

$1,249.90
This Pendant Is Made to Order
Please Allow 2 Weeks for Delivery
Custom Made Just for You
CHAIN OPTIONS

Model #SNA050

Gemday 14k Gold Snake Chain
Yellow 14k

In Stock

Model #QTR016

Gemday 14k Gold Solid Rope Chain
2 millimeter width, Lobster Clasp

In Stock
OR CALL 1 (888) 243-6329 TOLL FREE!
8:30 am to 6:30 pm Monday through Friday
8:30 am to 5:30 pm Saturday
Central Time, USA
This Extraordinary Creation was Designed by Gemday
The beautiful piece of jewelry you've selected is a product of the talented jewelry designers at Gemday Jewelers. When you buy a Gemday Creation you're assured of receiving only the finest quality jewelry, diamonds and gemstones in one of our beautiful presentation cases. We take loving care of every piece of jewelry from the moment it is designed, through our extraordinary manufacturing process, until it is delivered to you. We are pleased to offer you many designs that are available only from Gem of the Day.
Every Gemday Jewelry or Diamond Creation is covered by our full 30 day money-back guarantee, with the exception of Custom Designed or Engraved merchandise*, We invite you to see and wear your jewelry for up to 30 days. Then, if you're not fully satisfied, just return it for a full refund. This is the best and SAFEST way to buy over the Internet
*Custom Designed and Engraved Items are NOT Returnable for Refund.

Why You Should Buy from Gem of the DayTM
When you buy from Gem of the Day, you are purchasing from real watch and jewelry experts. Just call our TOLL FREE number 1 (888) 243-6329 and speak directly with watchmakers, jewelers and gemologists anytime between 8:30 am and 6:30 pm Central Time, Monday through Saturday.
Gem of the Day is an AUTHORIZED DEALER for every watch brand and jewelry item we sell. We never sell used, refurbished jewelry or "seconds."
In addition, Gem of the Day offers you a 30 day money back guarantee. If you're not thoroughly pleased, you can return your purchase within 30 days and receive a FULL REFUND. With Gem of the Day there are no restocking fees and no hidden chargebacks. Compare Dealers before you buy. You'll quickly discover why Gem of the Day is "Your Internet Source for Jewelry."